Welcome to our *new* home page!!!

==== CYBER TREATMENT - SURGERY - SERVIOCE - NEW - REFURBISH ======
~DISCRETE PROCEDURES - QUALIFIED SURGEONS -ALL MAJOR FORMS OF PAYMENT ACCEPTED~
***** NO $CASH$? ASK ABOUT OUR INSTALMENT PLAN!!! *****
---
QUALIFIED PROFESSIONL A-1 QUALITY CYBERNETICS INSTALLATION.... GUARANTEED!

We at Kutting Edge Klinik provide best service for you & your hardware with no questiosn asked. Our installations are fast quiet and totally hassle-free. We work with implants, from evewry major manufacturer import and secodhand too. Special requests no problem. House calls OK for additiional fee. Dr. Vorobei and the Klinik team have years of experience recommendig installing and servicing all cyberware and are looking forward to help you reach your fulll potential!

DON'T WAIT! MAIL US NOW TO BOOK YOUR APPOINTMENT!
---
AVAILABLE PROCEDURES
We offer....
- Implant installation and rehabiltation
- Bioneural and cranial mod install;
-Cyberware maintenance/repair
- Aftermarket upgrade and overclocing
- Cyberware unlock/reprogramming/security disable3
(UPDATED 1/4/95) Don't miss this months special DEAL!!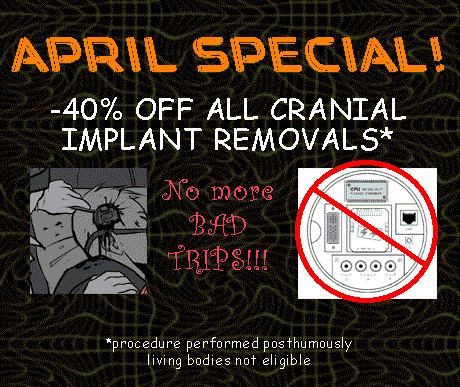 ---
QUALIFICATIONS AND LICENSS



---
BOOK AN APPOINTMENT
Click on the icon to send us an email!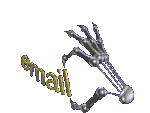 ---
Over satisfied patient's....... will YOU be next?
---
How was your experienve at the Kutting Egde Klinik? Share ur thoughts in our brand new guestbook!


---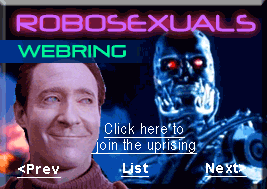 ---






---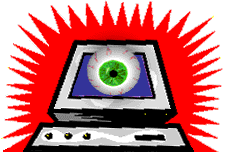 All pictures and images copyright ™ ? ® 1995 Kutting Edge Klinik. Kutting Edge Klinik assumes no responsibility for any loss of life, temporary or permanent disability, physiological, psychological, emotional, or other damages incurred as a result of voluntary or involuntary procedures undertaken at this facility. Refurbished cybernetics are sold "as-is", and may not function as advertised. Defective items may only be exchanged for an item of equal or lesser value at the discretion of Klinik management. No guarantees offered, regardless of promotional wording. All sales final.